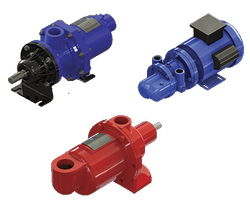 Floating Stator Screw Pumps
Compact pumps are designed for the needs of light industry and agriculture. They are characterized by low performance and low pressure. The pumps are widely used where general pumping and conveying functions require a compact and reliable pump with a robust and simple design. The pumps are equipped with standard IEC motors.
By purchasing pumps with a floating stator from ASCO PUMPS, you get pumps of an original design with the following features and advantages:
Output is directly proportional to speed
Suction lift of up to 8 m
Smooth operation will help to avoid damage to the pumped product from cutting and crushing
Can handle liquids with solids
Minimal shock loads with
performance at various heads
Simple design and easy dismantling
Low maintenance cost
The pumps have found their application in areas such as:
Drainage of septic tanks/gutters
Sprinkling/irrigation systems
Water intake from wells, streams and rivers
Pumping diesel fuel
Oil-contaminated water supply to separators
Transportation and dosing of non-aggressive chemicals and alkalis
Pumping water-based paints
Application in food industry, wine-making
Pumping liquids with small inclusions in suspension
Transportation of polyelectrolyte
Pumping detergents and surfactants
All pumps are available in both open shaft and monobloc design.The shaft seal is a mechanical seal.
ASCO PUMPS offers to buy screw pumps of standard design, hygienic design, twin screw pumps, as well as spare parts such as rotors, stators and other parts. The pumps are widely used in paper and pulp industry, agricultural sector, oil and gas, paint and varnish, mining, chemical, food industry, explosives, man-made fibers, building materials, wine-making and many other industrial sectors.
10

reasons to buy screw pumps at Asco Pumps
Unpretentiousness of the pump in operation
Pumping suspensions without breaking the structure and destroying inclusions
Pumping almost any liquid
Smooth flow of the pumped product at the outlet of the pump
Proportional pumping, which makes the pump metering
Ability to create a lot of pressure
High self-priming capacity, lifting from a depth of up to 9.5 meters
Pumping highly viscous liquids
Pumping liquids with abrasive particles and high solids content without wear
Simple design - easy pump maintenance, low operating costs
In ASCO PUMPS you can not only order and buy floating stator screw pumps in Uzbekistan, having received favorable prices + guarantees, but also take advantage of the full range of services, including: Delivery + Installation + Service + Equipment repair.