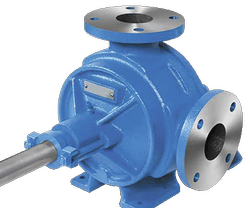 General Purpose Pumps
The widespread use of general purpose pumps in all areas of industrial production around the world is due to their careful handling of liquid during pumping, their simple and reliable design, as well as minimal maintenance of the pump itself. Thanks to standard connection dimensions, the pumps can be combined with any motor and other drive elements that comply with NEMA or IEC standards.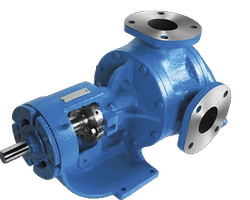 Heavy-Duty Foot-Mounted Pumps
Heavy duty gear pumps tackle the toughest challenges and maximize flow when unloading large tanks. Foot-mounted pump design allows the use of various types of mechanical seals without changing the design of the pump itself (Universal Seal series). A large bearing cup located at the rear of the pump accommodates any seal from a conventional packing gland to a double mechanical seal.
High-Speed Pumps
Viking high-speed industrial pumps offer increased performance through the use of double ball bearings and a direct pump-to-motor arrangement. Reliable mechanical seals and gaskets eliminate leaks and extend pump life. Micrometer adjustment ensures high-precision centering of the rotor shaft, while patented gear setting technology ensures backlash-free interferance.
Direct Drive Pumps
Directly driven gear pumps with an electric motor efficiently pump liquids at high operating speeds. There is no gearbox in the design of the entire unit, which significantly reduces the cost of the pump unit and increases its reliability. Viking's groundbreaking pump design provides excellent suction at the inlet and minimal noise levels. Main advantages of this series of pumps include: a large-diameter shaft and a radial bearing, which exclude deformations, and precise installation of gears increases efficiency; the geometry of gears ensures high flow and the lowest noise level when the pump is running.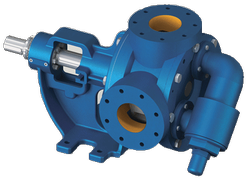 Internal Gear Eccentric Gear Pumps
VALISI internal gear VD series gear pumps are self-priming displacement pumps with a reliable and simple design (only two moving parts). This type of design allows you to efficiently pump both liquid and clean media, as well as highly viscous abrasive media with impurities (for example, asphalt, chocolate, honey, etc.). The pumps can handle liquids with a viscosity of 1 cST-450,000 cST. The pumps provide uniform flow and high pressure. Gear pumps are present in the following designs: without axial support, with axial support, «in-line&raquo design, monoblock and high-speed.
4

reasons to buy internal gear pumps at Asco Pumps
We offer robust, reliable and cost effective pumps.
Compact design pumps with various options to handle a wide variety of liquids.
We always strive for impeccable quality of the products we offer.
We have a qualified approach to the needs of our clients.
In ASCO PUMPS you can not only order and buy crescent pumps in Uzbekistan, having received favorable prices + guarantees, but also take advantage of the full range of services, including: Delivery + Installation + Service + Equipment repair.