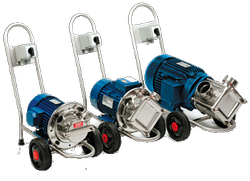 Flexible Impeller Pumps
MENC-INOX series industrial pumps are pumps with a flexible stainless steel impeller. Deforming inside the stainless steel housing, the impeller provides fast suction of up to 5 m and constant and accurate pumping of liquid. In addition, low speed makes this pump suitable for handling liquids and media containing solids that require careful handling. Due to the low speed, pumping is carried out without harmful foaming of the emulsion, the so-called «shear effect».
MENC-INOX series pumps have the following characteristics:
Pump housing made from one piece

All pump housings are made of thick stainless steel sheet to ensure quality and long life.nbsp;Pump housings are subject to constant weld quality control and polished on the inside and on the outside to ensure a high level of hygiene.

Non-toxic rubber impeller

The impeller is made of synthetic rubber (neoprene or EPDM) and is completely non-toxic and multi-acid resistant. The neoprene impeller complies with American FDA food contact regulations.

A mechanical gearbox is available for the MENC-INOX 40 and 50 series, which allows for a pump speed of only 570 rpm for very smooth pump operation when pumping highly viscous liquids.
5

reasons to buy industrial pumps at Asco Pumps
All production processes are certified according to UNI EN ISO 9001/2008 standards.
We offer reliable solutions tailored to application, operational needs and capabilities of each customer.
All equipment is manufactured in our own factories.
Each pump we sell is thoroughly tested in our factory before being sent to the customer. Our specialists send the equipment to the customer only after being 100% convinced of its integrity and operability. Therefore, you can be sure that the pump will last you a long time.
Preliminary design work with subsequent installation is required for a certain part of our products. Our technical specialists will conduct preliminary consultations and carry out installation after delivery of the equipment to your enterprise. Therefore, we provide a service guarantee.
In ASCO PUMPS you can not only order and buy flexible impeller pumps in Uzbekistan, having received favorable prices + guarantees, but also take advantage of the full range of services, including: Delivery + Installation + Service + Equipment repair.