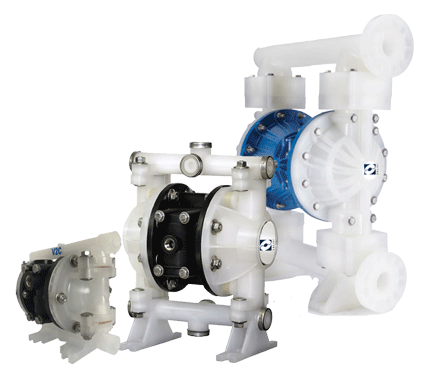 Diaphragm Pumps of Plastic Series
Despite their simple design and operating principle, diaphragm pumps are distinguished by their exceptional performance and reliability. They can handle both clean, low viscosity fluids and abrasive fluids of medium viscosity. In addition, these pumps can handle large particles without damaging equipment. Thanks to a pneumatic motor, they can be used in explosive environments. Uniqueness of each unit lies in the fact that the same pumps can be supplied with components made of different materials, which allows the pumps to be used for pumping liquids of varying degrees of aggressiveness, for example, petrochemicals, food products, fuels and lubricants, polluted water.
Advantages of the pumps:
High level of energy saving
Production process safety
Increased production efficiency
Reduced downtime
Uninterrupted operation at low temperatures
FDA compliant pumps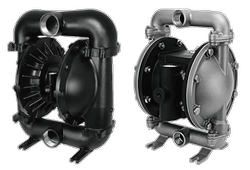 Metal Series Diaphragm Pumps
Pneumatic industrial diaphragm pumps for standard operating conditions are one of the most demanded series on the market. They are manufactured with a wide range of standard sizes (1/4" – 3") and are used to solve problems of transportation of general-purpose liquids, such as clean water, process water, slightly aggressive liquids, liquids with a moderate content of small inclusions, oil products, etc. They are often used in ceramic, chemical and paint and varnish industries, as well as in the field of water disposal and housing and public utilities.
Diaphragm Hygienic Pumps
Hygienic series pneumatic diaphragm pumps are made of polished AISI 316L stainless steel. Hermetic, self-priming pumps are designed mainly for pumping mildly aggressive media, food and cosmetic products. They are used in those industries where there are increased requirements for hygiene, for example, in dairy production.
5

reasons to buy industrial diaphragm pumps at Asco Pumps
All production processes are certified according to UNI EN ISO 9001/2008 standards.
We offer reliable solutions tailored to application, operational needs and capabilities of each customer.
All equipment is manufactured in our own factories.
Each pump we sell is thoroughly tested in our factory before being sent to the customer. Our specialists send the equipment to the customer only after being 100% convinced of its integrity and operability. Therefore, you can be sure that the pump will last you a long time.
Preliminary design work with subsequent installation is required for a certain part of our products. Our technical specialists will conduct preliminary consultations and carry out installation after delivery of the equipment to your enterprise. Therefore, we provide a service guarantee.
In ASCO PUMPS you can not only order and buy diaphragm pneumatic pumps in Uzbekistan, having received favorable prices + guarantees, but also take advantage of the full range of services, including: Delivery + Installation + Service + Equipment repair.