Diaphragm Hygienic Pumps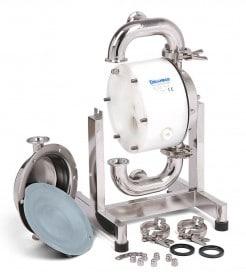 Hygienic series pneumatic diaphragm pumps are made of polished AISI 316L stainless steel. Hermetic, self-priming pumps are designed mainly for pumping mildly aggressive media, food and cosmetic products. They are used in those industries where there are increased requirements for hygiene, for example, in dairy production.
Dellmeco diaphragm hygienic pumps are FDA approved due to a smooth diaphragm surface as TFM prevents the growth of bacteria and germs. Moreover, all components that come into contact with the medium are made of stainless steel and thus comply with food and pharmaceutical industry standards. If you need special surface treatments, they can be provided upon request.
Air valves used are free of oil and grease, since the pneumatic actuator does not require compressed air lubrication or continuous lubrication. In addition, the connecting bracket system enables quick tool-free removal thanks to the clamping connection. The hygienic pump is also available with CIP and SIP. The pumps are available with various connections that are manufactured according to DIN 11850, DIN 11864-1 or ANSI. Flanged connections meeting aseptic requirements of ANSI or DIN 11864-2 are also available. Moreover, we also offer clamp connections (TC) in accordance with DIN 11864-3, aseptic and ANSI, as well as SMS and RJT connections.
Features of hygienic pumps
Pumps and systems for food or pharmaceutical industry must meet the highest requirements and hygiene standards. Whether pumping, dosing, mixing or filling, these products are sensitive and must be handled with the hygiene pump as carefully as possible. The pumps are characterized by high performance, long service life and ease of installation. All products are regularly tested to ensure smooth operation.

Mobility. All pumps are available as mobile pumps. Trolley for hygienic pumps is made of stainless steel to meet the requirements of the food and pharmaceutical industries. Accordingly, all accessories (filter regulators, hose holders) required for pump operation can be mounted on a cart.

Heating jacket. Products needs to be heated or cooled for many pumping tasks. Side sections as well as material inlets and outlets can be heated or cooled for this purpose. Warm water, steam or heat transfer oil can be used to heat the pump. Maximum permissible operating temperature is -30°C to +120 °C.
5

reasons to buy industrial diaphragm pumps at Asco Pumps
All production processes are certified according to UNI EN ISO 9001/2008 standards.
We offer reliable solutions tailored to application, operational needs and capabilities of each customer.
All equipment is manufactured in our own factories.
Each pump we sell is thoroughly tested in our factory before being sent to the customer. Our specialists send the equipment to the customer only after being 100% convinced of its integrity and operability. Therefore, you can be sure that the pump will last you a long time.
Preliminary design work with subsequent installation is required for a certain part of our products. Our technical specialists will conduct preliminary consultations and carry out installation after delivery of the equipment to your enterprise. Therefore, we provide a service guarantee.
In ASCO PUMPS you can not only order and buy hygienic diaphragm pumps in Uzbekistan, having received favorable prices + guarantees, but also take advantage of the full range of services, including: Delivery + Installation + Service + Equipment repair.