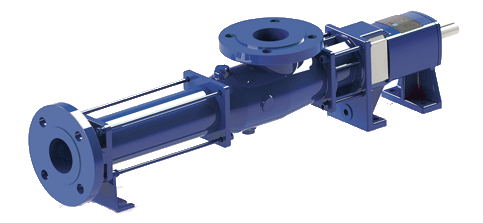 Standard Screw Pumps
Heavy-duty RD/RM series pumps are designed for continuous duty or intermittent duty, suitable for efficient handling of demanding tasks in the wastewater treatment, wastewater treatment, liquid transfer industries in chemical and food industries. The pumps are available in monoblock or bare shaft designs.
High-performance, cost-effective pumps of RL use an extended rotor/stator working pair geometry and are ideal for use in sewage treatment plants. The pumps are available in monoblock or bare shaft designs.
Heavy duty compact RE pumps are designed for high pressures thanks to the use of stators of equal wall thickness (flat profile stators) that are capable of generating 12 bar per cycle.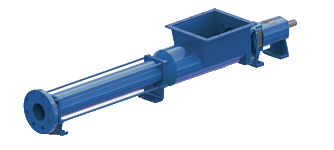 Screw pumps with a Wide Loading Hopper
Design of the WМ series pumps allows them to be used for many different jobs. Standard design includes an enlarged rectangular hopper with a screw conveyor that propels the pumped product into the pump head.
There are modifications in which the pump inlet funnel is equipped with a large auger, an integrated crust breaker, or both. In most cases, pumps are supplied in a close-coupled design (direct connection of the pump to the electric motor) or with a free shaft outlet (without an electric motor).
Metering Screw Pumps
Compact pump series RJ is designed for pumping small volumes of liquids where high precision and repeatability are required. Such pumps can handle a wide range of liquids, from clear and transparent liquids to abrasive, corrosive, viscous and solids. The pumps are widely used in wastewater treatment plants, pulp and paper, chemical, pharmaceutical, petrochemical industries, oil refining.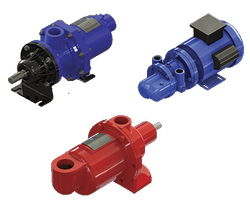 Floating Stator Screw Pumps
Compact pumps are designed for the needs of light industry and agriculture. They are characterized by low performance and low pressure. The pumps are widely used where general pumping and conveying functions require a compact and reliable pump with a robust and simple design. The pumps are equipped with standard IEC motors.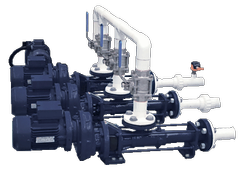 Eco, Poly, Superpoly Screw Pumps
Eco, Poly, Superpoly series are monoblock screw pumps specially designed for pumping slurries (primary, secondary, heavy), polyelectrolytes and other chemicals that are present in wastewater treatment. ECO and POLY pumps are based on well-tested D, L, LM and MC series for standard, simple competitive solutions with short delivery times.
Main applications of such pumps include: sewage, sludge, polyelectrolyte, drilling fluids, slaughterhouse waste water, oil, water, emulsions, oily slime, shipbuilding and seaports, bilge water.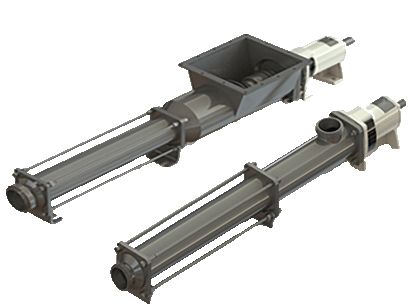 Screw Pumps for the Food Industry
Hygienic screw pumps are specially designed for use in food, cosmetic and beverage industries. Such pumps are simple in design, which makes their cleaning much easier. All metal parts in contact with the pumped product are made of stainless steel SS304/SS316. Pumps with a wide hopper have been developed for conveying materials with high viscosity.
ASCO PUMPS offers to buy screw pumps of standard design, hygienic design, twin screw pumps, as well as spare parts such as rotors, stators and other parts. The pumps are widely used in paper and pulp industry, agricultural sector, oil and gas, paint and varnish, mining, chemical, food industry, explosives, man-made fibers, building materials, wine-making and many other industrial sectors.
10

reasons to buy screw pumps at Asco Pumps
Unpretentiousness of the pump in operation
Pumping suspensions without breaking the structure and destroying inclusions
Pumping almost any liquid
Smooth flow of the pumped product at the outlet of the pump
Proportional pumping, which makes the pump metering
Ability to create a lot of pressure
High self-priming capacity, lifting from a depth of up to 9.5 meters
Pumping highly viscous liquids
Pumping liquids with abrasive particles and high solids content without wear
Simple design - easy pump maintenance, low operating costs
In ASCO PUMPS you can not only order and buy screw pumps in Uzbekistan, having received favorable prices + guarantees, but also take advantage of the full range of services, including: Delivery + Installation + Service + Equipment repair.