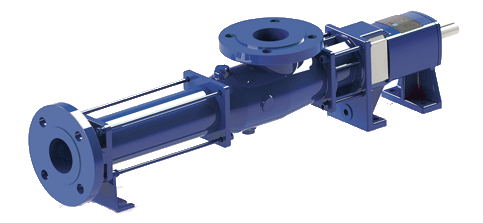 Standard Screw Pumps
Heavy-duty RD/RM series pumps are designed for continuous duty or intermittent duty, suitable for efficient handling of demanding tasks in the wastewater treatment, wastewater treatment, liquid transfer industries in chemical and food industries. The pumps are available in monoblock or bare shaft designs.
High-performance, cost-effective pumps of RL series use an extended rotor/stator working pair geometry and are ideal for use in sewage treatment plants. The pumps are available in monoblock or bare shaft designs.
Heavy duty compact RE pumps are designed for high pressures thanks to the use of stators of equal wall thickness (flat profile stators) that are capable of generating 12 bar per cycle.
Operation principle of screw pumps
The pumping element consists of a precision machined single outer spiral metal rotor and a double inner spiral elastomeric stator. Due to a special shape of the rotor and stator, a sealed line is formed along the rotor axis, which is maintained both in a static and dynamic state.
As the rotor rotates inside the stator, these cavities move from the suction port to the pump outlet port.
ASCO PUMPS offers to buy screw pumps of standard design, hygienic design, twin screw pumps, as well as spare parts such as rotors, stators and other parts. The pumps are widely used in paper and pulp industry, agricultural sector, oil and gas, paint and varnish, mining, chemical, food industry, explosives, man-made fibers, building materials, wine-making and many other industrial sectors.
10

reasons to buy screw pumps at Asco Pumps
Unpretentiousness of the pump in operation
Pumping suspensions without breaking the structure and destroying inclusions
Pumping almost any liquid
Smooth flow of the pumped product at the outlet of the pump
Proportional pumping, which makes the pump metering
Ability to create a lot of pressure
High self-priming capacity, lifting from a depth of up to 9.5 meters
Pumping highly viscous liquids
Pumping liquids with abrasive particles and high solids content without wear
Simple design - easy pump maintenance, low operating costs
In ASCO PUMPS you can not only order and buy standard screw pumps in Uzbekistan, having received favorable prices + guarantees, but also take advantage of the full range of services, including: Delivery + Installation + Service + Equipment repair.