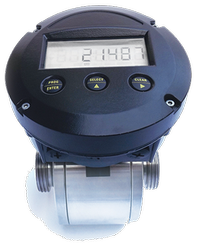 Oscillating-Piston Flowmeters
AFM series is a rotating piston flowmeter. Due to their characteristics, they can be used in all those industrial applications where liquid measurement with low to medium viscosity is required. Its simple design (only one moving part) ensures a long service life and very low operating costs. Components of the ACM that come in contact with the medium are either made of AISI 316 stainless steel (upon request) or PVC (depending on the process fluid).
ACM series flowmeters have the following components:
Measuring chamber containing a rotating piston;
Waterproof o-rings made from Viton® or PTFE;
Ryton® piston (or PVDF) with two permanent magnets;
The switch is of REED type, it is mounted in a suitable housing and located outside the sensor.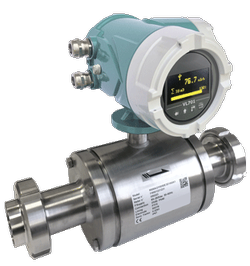 Electromagnetic Flowmeters
Electromagnetic flowmeters are suitable for use in the food and pharmaceutical industries. DIN or Clamp connections comply with ISO 2852, are suitable for liquids such as milk, beer or other beverages. Made entirely of stainless steel with optional PFA coating making the RSmag meter suitable for pharmaceutical applications.
All devices have the following characteristics:
Fully duo-directional measurement.
Extreme reliability.
High accuracy.
No moving parts.
No pressure loss.
Extended measuring range, 100: 1.
Measurement independent of pressure, temperature, density and viscosity of the liquid.
In ASCO PUMPS you can not only order and buy flow meters in Uzbekistan, having received favorable prices + guarantees, but also take advantage of the full range of services, including: Delivery + Installation + Service + Equipment repair.