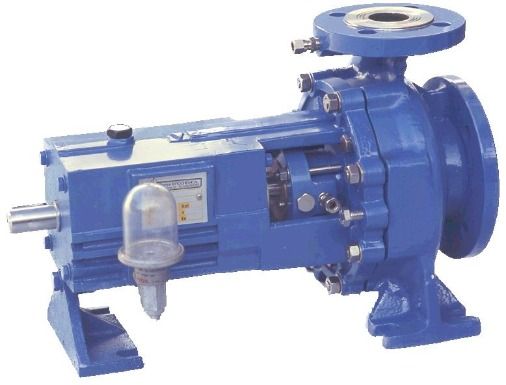 Single-Stage Centrifugal Pumps
The company's plant produces single-stage horizontal and vertical centrifugal industrial pumps, which are widely used in chemical, petrochemical, chemical and pharmaceutical industries, in water treatment plants, in textile industry and in any other industry where there is a need to move liquids, including, and special. The listed pumps are used not only in standard installations, but are also custom-made, since they are distinguished by a high level of individualization both in terms of materials used and in terms of configuration of the installation itself.

The company's product range includes chemical single-stage horizontal centrifugal pumps, horizontal monoblock centrifugal pumps, vertical single-stage centrifugal pumps, single-stage in-line centrifugal pumps, and double-suction in-line pumps.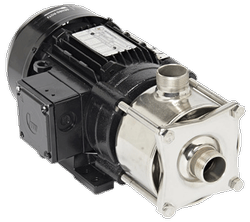 Hygienic Centrifugal Pumps
ASCO PUMPS offers industrial hygienic pumps for food, cosmetic, pharmaceutical, petrochemical and galvanic industries. All products are manufactured using advanced cold pressing technology. This manufacturing method allows the pumps to work in difficult conditions with an extended and guaranteed service life.

The main distinguishing feature of the products is that thicker sheets of 4 mm thick made of stainless steel AISI 304/316 are used in the manufacturing process. This guarantees a long service life of the pumping units. Another important factor is that corrosion resistance of parts made of stainless steel and obtained by cold pressing from rolled products is significantly increased.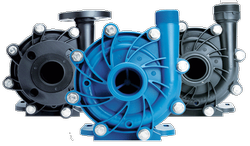 Magnetic Coupling Centrifugal Chemical Pumps
ASCO PUMPS offers centrifugal chemical pumps with a magnetic drive for pumping aggressive liquids such as sulfuric acid, hydrochloric and nitric acid, phosphoric acid, alkalis, waste water with chemical impurities, solvents, salt solutions and other products of FINISH THOMPSON INC. The pumps can also handle explosive liquids such as gasoline and diesel.

Main products offered: centrifugal horizontal and vertical pumps with magnetic drives, including self-priming ones. In addition, we supply centrifugal horizontal and vertical chemical pumps with mechanical seals made of plastic, pumps for barrels, canisters, bottles, intermediate bulk containers. The pumps are manufactured in ANSI standard sizes, with neodymium magnetic drives, corrosion resistant polypropylene and PVDF stainless steel casings. The range includes pumps manufactured in accordance with EC ATEX 100 directive (explosion-proof).

Buying centrifugal pumps with magnetic drives is the best choice when you need to eliminate the possibility of fluid leakage from the pump.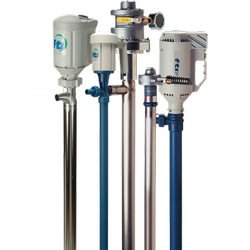 Centrifugal Drum Pumps
FINISH THOMPSON is one of the leading drum pump manufacturers and a centrifugal pump specialist in general. Range of barrel pumps includes plastic and metal models used for emptying containers, drums, tanks, medium-duty containers and silos. Range of centrifugal pumps includes stainless steel pumps, ETFE lined process pumps, polypropylene and PVDF plastic pumps for aggressive, challenging chemicals.
5

reasons to buy centrifugal pumps at Asco Pumps
«ASCO PUMPS» offers a wide range of centrifugal pumps that meet the needs of various industrial areas.
a) Monoblock pumps are used in water supply, heating, air conditioning systems; in chemical industry, sludge treatment, waste processing.
b) Single-stage horizontal and vertical pumps are widely used in chemical, petrochemical, chemical-pharmaceutical industries.
c) Pumps with a split casing are used in pumping stations, fire services and water treatment stations where a large flow is required and the head is limited.
Our specialists have received technical training at the factories where all the above types of centrifugal pumps are produced. Therefore, you can be sure of the correct selection of this or that pump.
We offer only high-quality equipment that will work provided it is used correctly.
Thanks to many years of experience in selling pumps, we offer you a range of only high-quality, time-tested, various models of centrifugal pumps.
We provide guarantee for all the products! Therefore, you can call us at any time if you have any questions throughout a long period time after the purchase!
In ASCO PUMPS you can not only order and buy industrial centrifugal pumps in Uzbekistan, having received favorable prices + guarantees, but also take advantage of the full range of services, including: Delivery + Installation + Service + Equipment repair.