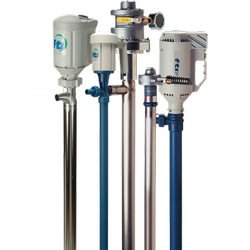 Centrifugal Drum Pumps
FINISH THOMPSON is one of the leading drum pump manufacturers and a centrifugal pump specialist in general. Range of barrel pumps includes plastic and metal models used for emptying containers, drums, tanks, medium-duty containers and silos. Range of centrifugal pumps includes stainless steel pumps, ETFE lined process pumps, polypropylene and PVDF plastic pumps for aggressive, challenging chemicals.
Video presentation of barrel centrifugal pumps
FEATURES OF BARREL PUMPS
Polypropylene, PVDF or 316SS pipes.
Interchangeable with motors.
Large flow control with variable orifice flow rate (PFM/PFP/PFV only).
Viscosity of up to 2000 cP with electric motor.
FDA compliant.
Integrated hose and cord clips (PFM/PFP/PFV only).
APPLICATION
Acids.
Alkalis.
Solvents.
Water treatment chemicals.
Cleaning products.
Galvanic solutions.
Kidney dialysis solutions.
DEF/AdBlue (diesel exhaust fluid).
5

reasons to buy centrifugal pumps at Asco Pumps
«ASCO PUMPS» offers a wide range of centrifugal pumps that meet the needs of various industrial areas.
a) Monoblock pumps are used in water supply, heating, air conditioning systems; in chemical industry, sludge treatment, waste processing.
b) Single-stage horizontal and vertical pumps are widely used in chemical, petrochemical, chemical-pharmaceutical industries.
c) Pumps with a split casing are used in pumping stations, fire services and water treatment stations where a large flow is required and the head is limited.
Our specialists have received technical training at the factories where all the above types of centrifugal pumps are produced. Therefore, you can be sure of the correct selection of this or that pump.
We offer only high-quality equipment that will work provided it is used correctly.
Thanks to many years of experience in selling pumps, we offer you a range of only high-quality, time-tested, various models of centrifugal pumps.
We provide guarantee for all the products! Therefore, you can call us at any time if you have any questions throughout a long period time after the purchase!
In ASCO PUMPS you can not only order and buy centrifugal drum pumps in Uzbekistan, having received favorable prices + guarantees, but also take advantage of the full range of services, including: Delivery + Installation + Service + Equipment repair.