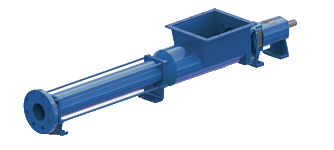 Screw pumps with a Wide Loading Hopper
Design of the WМ series pumps allows them to be used for many different jobs. Standard design includes an enlarged rectangular hopper with a screw conveyor that propels the pumped product into the pump head.
There are modifications in which the pump inlet funnel is equipped with a large auger, an integrated crust breaker, or both. In most cases, pumps are supplied in a close-coupled design (direct connection of the pump to the electric motor) or with a free shaft outlet (without an electric motor).
WM Series has been designed to handle highly viscous materials such as silt, sludge, thick non-runny pastes and dewatered sludge with viscosities of up to 1,000,000 cps.
Features of WM Series Hopper Pumps
Provides an efficient way to handle high solids sludge.
Various design configurations depending on the application; when using built-in bridge breakers or large feed augers, solids up to 15% can be processed.
Facilitates maintenance due to simple design and use of a plug in the shaft. Designed to operate at relatively slow speeds to minimize damage to shear sensitive products.
Can be supplied with a chopper mounted horizontally on a hopper to assist in solids reduction prior to pumping. The pumps can be supplied in accordance with ATEX directive 94/9/EC.
ASCO PUMPS offers to buy screw pumps of standard design, hygienic design, twin screw pumps, as well as spare parts such as rotors, stators and other parts. The pumps are widely used in paper and pulp industry, agricultural sector, oil and gas, paint and varnish, mining, chemical, food industry, explosives, man-made fibers, building materials, wine-making and many other industrial sectors.
10

reasons to buy screw pumps at Asco Pumps
Unpretentiousness of the pump in operation
Pumping suspensions without breaking the structure and destroying inclusions
Pumping almost any liquid
Smooth flow of the pumped product at the outlet of the pump
Proportional pumping, which makes the pump metering
Ability to create a lot of pressure
High self-priming capacity, lifting from a depth of up to 9.5 meters
Pumping highly viscous liquids
Pumping liquids with abrasive particles and high solids content without wear
Simple design - easy pump maintenance, low operating costs
In ASCO PUMPS you can not only order and buy screw pumps with a wide loading hopper in Uzbekistan, having received favorable prices + guarantees, but also take advantage of the full range of services, including: Delivery + Installation + Service + Equipment repair.