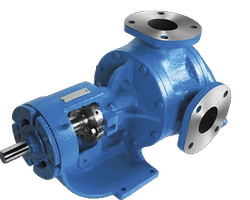 Heavy-Duty Foot-Mounted Pumps
Heavy duty gear pumps tackle the toughest challenges and maximize flow when unloading large tanks. Foot-mounted pump design allows the use of various types of mechanical seals without changing the design of the pump itself (Universal Seal series). A large bearing cup located at the rear of the pump accommodates any seal from a conventional packing gland to a double mechanical seal.
We offer heavy-duty gear pumps that have the following advantages:
The pumps are robust, reliable, and cost-efficient at the same time.
We offer a wide range of sizes and options available for almost any non-aggressive application
The pumps have the narrowest clearances for high efficiency and excellent priming ability
4

reasons to buy internal gear pumps at Asco Pumps
We offer robust, reliable and cost effective pumps.
Compact design pumps with various options to handle a wide variety of liquids.
We always strive for impeccable quality of the products we offer.
We have a qualified approach to the needs of our clients.
In ASCO PUMPS you can not only order and buy heavy-duty foot-mounted pumps in Uzbekistan, having received favorable prices + guarantees, but also take advantage of the full range of services, including: Delivery + Installation + Service + Equipment repair.