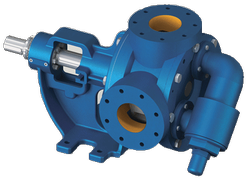 Internal Gear Eccentric Gear Pumps
VALISI internal gear VD series gear pumps are self-priming displacement pumps with a reliable and simple design (only two moving parts). This type of design allows you to efficiently pump both liquid and clean media, as well as highly viscous abrasive media with impurities (for example, asphalt, chocolate, honey, etc.). The pumps can handle liquids with a viscosity of 1 cST-450,000 cST. The pumps provide uniform flow and high pressure. Gear pumps are present in the following designs: without axial support, with axial support, «in-line&raquo design, monoblock and high-speed.
4

reasons to buy internal gear pumps at Asco Pumps
We offer robust, reliable and cost effective pumps.
Compact design pumps with various options to handle a wide variety of liquids.
We always strive for impeccable quality of the products we offer.
We have a qualified approach to the needs of our clients.
In ASCO PUMPS you can not only order and buy internal gear eccentric gear pumps in Uzbekistan, having received favorable prices + guarantees, but also take advantage of the full range of services, including: Delivery + Installation + Service + Equipment repair.