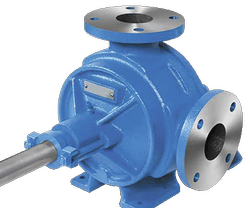 General Purpose Pumps
The widespread use of general purpose pumps in all areas of industrial production around the world is due to their careful handling of liquid during pumping, their simple and reliable design, as well as minimal maintenance of the pump itself. Thanks to standard connection dimensions, the pumps can be combined with any motor and other drive elements that comply with NEMA or IEC standards.
Internal gear pump options.
Flange-mounted pumps
All pumps use a cup or stuffing box sealing. Models C and HL can be fitted with a mechanical seal.
Foot-mounted pumps
Heating jacket (optional) allows maintaining a constant temperature of the pumped liquid. A variety of inlet/outlet locations allows the pump to be installed in any hydraulic system. All pumps use stuffing box sealing.
10

reasons to buy internal gear pumps at ASCO PUMPS
Wide range of materials, designs, seals, ports and offsets
Adjustable clearances allow for viscosities from 28 to 2 000 000 units (1 to 440,000 cSt)
Low shear pumps.
Reliable and easy-to-service pumps. Only two moving parts.
Adjustable axial clearances. For pumping liquids with low or high viscosity, high temperature or to compensate for wear over time.
Various shaft seal options. Includes stuffing box, lip sealing, component seals, cartridge seal and magnetic drive.
Port options. Wide range of configurations and types.
Smooth, non-pulsating flow. For accurate flow measurement.
One shaft seal. More reliable and cheaper than the two or four seals used in vane and screw pumps.
Compact, monoblock design.
In ASCO PUMPS you can not only order and buy general purpose pumps in Uzbekistan, having received favorable prices + guarantees, but also take advantage of the full range of services, including: Delivery + Installation + Service + Equipment repair.