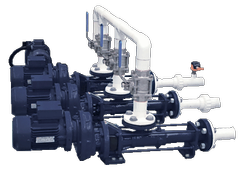 Eco, Poly, Superpoly Screw Pumps
Eco, Poly, Superpoly series are monoblock screw pumps specially designed for pumping slurries (primary, secondary, heavy), polyelectrolytes and other chemicals that are present in wastewater treatment. ECO and POLY pumps are based on well-tested D, L, LM and MC series for standard, simple competitive solutions with short delivery times.

Main applications of such pumps include: sewage, sludge, polyelectrolyte, drilling fluids, slaughterhouse waste water, oil, water, emulsions, oily slime, shipbuilding and seaports, bilge water.
ECO, POLY & SUPERPOLY are designed in standard universal versions for maximum simplicity and economy. They are available with fixed or variable wattage, manual variator or adjustable remote signal.
Advantages
Compact design
Affordable
The pump is mounted on its feet or on an additional base plate
Universal joint for stem connection
Self-alignment between pump and motor
Application
Sludge pumping at wastewater treatment plants
Circulation or recovery of sludge during processing, usually for primary, secondary, rotted or thickened sludge
Pumping and dosing of polyelectrolyte solutions during sludge or water purification processes
Most general industrial applications compatible with pump design
ASCO PUMPS offers to buy screw pumps of standard design, hygienic design, twin screw pumps, as well as spare parts such as rotors, stators and other parts. The pumps are widely used in paper and pulp industry, agricultural sector, oil and gas, paint and varnish, mining, chemical, food industry, explosives, man-made fibers, building materials, wine-making and many other industrial sectors.
10

reasons to buy screw pumps at Asco Pumps
Unpretentiousness of the pump in operation
Pumping suspensions without breaking the structure and destroying inclusions
Pumping almost any liquid
Smooth flow of the pumped product at the outlet of the pump
Proportional pumping, which makes the pump metering
Ability to create a lot of pressure
High self-priming capacity, lifting from a depth of up to 9.5 meters
Pumping highly viscous liquids
Pumping liquids with abrasive particles and high solids content without wear
Simple design - easy pump maintenance, low operating costs
In ASCO PUMPS you can not only order and buy eco, poly, superpoly screw pumps in Uzbekistan, having received favorable prices + guarantees, but also take advantage of the full range of services, including: Delivery + Installation + Service + Equipment repair.