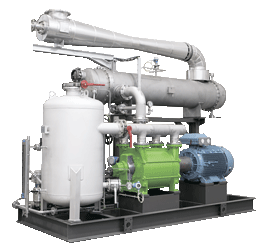 Liquid Ring Hybrid Systems
Hybrid systems represent engineering excellence in the design of process vacuum systems by combining two or more different technologies to achieve the required performance with the most reliable and efficient solution.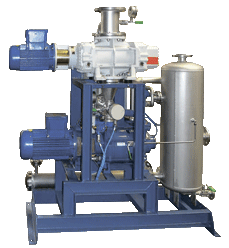 Being the main pump, liquid ring vacuum pump provides great flexibility in combination with one or more ejector stages or mechanical boosters due to its great ability to handle condensable vapors. Moreover, principle of isothermal compression of the liquid ring pump makes it less sensitive to any process fluctuations that may arise and affect the intermediate pressure.
If operating conditions go beyond the capacity potential provided by a liquid ring pump alone, ASCO Pompe can provide hybrid units such as a combination of mechanical booster pumps or steam ejectors that can operate in conjunction with liquid ring pumps. Both boosters and/or ejectors can be combined in series and in parallel to increase the compression ratio when a deeper vacuum is required. Hybrid systems are often a good option when the coolant temperature does not match the pump specifications. ASCO Vacuum systems are reliable and easy to operate.
5

reasons to buy industrial vacuum pumps at Asco Pumps
We provide our clients with unique products of European quality.
We offer and find new solutions that can satisfy almost any client's needs.
Our daily challenge is to overcome our standards to meet all market demands.
We carry out calculation, selection and supply of vacuum pumps, compressors, blowers.
We provide warranty and post-warranty maintenance of the equipment.
In ASCO PUMPS you can not only order and buy liquid ring hybrid systems in Uzbekistan, having received favorable prices + guarantees, but also take advantage of the full range of services, including: Delivery + Installation + Service + Equipment repair.