Dry Screw Vacuum Pumps
AVDS series consists of dry screw vacuum pumps designed to operate in very high vacuum conditions, capable of reaching 0.05 mbar or more in combination with a booster pump.

New patented hybrid propeller design provides higher efficiency due to lower temperature and lower power consumption.

Various types of coatings protect internal components from corrosion caused by corrosive gas mixtures and vapors common in manufacturing, chemical, pharmaceutical and petrochemical industries.

Typically, a pump unit is supplied complete with accessories to ensure correct and safe operation. In general, the accessories are as follows: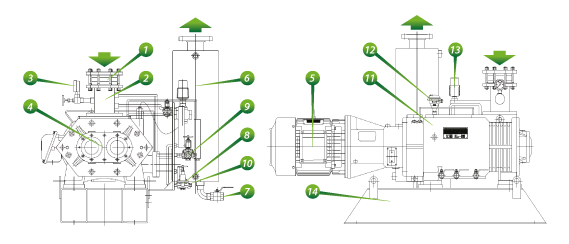 1. Return valve
2. Suction port
3. Pressure gauge
4. Vacuum pump
5. Motor
6. Silencer at the outlet
7. Muffler outlet valve
8. Seal purge system
9. Intake purge system
10. Solvent flush system
11. Gas ballast intake
12. Temperature element
13. Thermostatically controlled valve
14. Base frame
5

reasons to buy industrial vacuum pumps at Asco Pumps
We provide our clients with unique products of European quality.
We offer and find new solutions that can satisfy almost any client's needs.
Our daily challenge is to overcome our standards to meet all market demands.
We carry out calculation, selection and supply of vacuum pumps, compressors, blowers.
We provide warranty and post-warranty maintenance of the equipment.
In ASCO PUMPS you can not only order and buy dry screw vacuum pumps in Uzbekistan, having received favorable prices + guarantees, but also take advantage of the full range of services, including: Delivery + Installation + Service + Equipment repair.