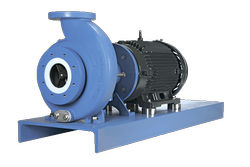 UC Series Heavy Duty Chemical Pumps
Designed for the most extreme chemical processing applications, the ULTRAChem® series are magnetically driven pumps that comply with ANSI standards. The pumps are designed for pumping aggressive chemically active liquids. Concentration of suspended particles should be no more than 1.25 mg/cc. The pumps are ideal for ultra-low ambient temperatures.
FEATURES AND SPECIFICATIONS OF CHEMICAL PUMPS
VERY RELIABLE
Designed to perform reliably in the toughest chemical manufacturing processes, ULTRAChem® pumps with magnetic couplings conform to ANSI standards. They are made from sound DuPont Tefzel (ETFE) lined ductile iron for superior corrosion resistance.
ULTRA LONG LIFE
Low production radial loads resulting from pump volute upgrades or partial housing separation depending on the model, fully protected shaft and double self-adjusting bushing are designed to prevent premature wear. Precision design ensures optimum balance of axial forces within the pump while controlling excessive loads. Complete encapsulation of internal magnetic drive with ETFE provides optimum corrosion protection. These are just a few of the ULTRAChem Series characteristics that guarantee optimum pump life.
ULTRA SEALED
Powerful neodymium magnets drive the impeller through a carbon fiber reinforced ETFE insulating barrier for sealed, emission-free operation. Absence of a double mechanical seal eliminates the loss of friction power and the need to install a barrier liquid supply system.
APPLICATIONS
Chemical industry.
Metallurgy.
Water supply and wastewater treatment.
Electronic industry.
Surface treatment.
Pulp and paper industry.
Biofuels.
Gas cleaning systems.
Electroplating.
Pharmaceuticals.
PUMPED CHEMICAL MEDIA
Sodium hydroxide, sulfuric acid, hydrochloric acid, sodium hypochlorite, galvanic electrolytes, corrosive mixtures, waste water and solvents.
ASCO PUMPS offers centrifugal chemical pumps with a magnetic drive for pumping aggressive liquids such as sulfuric acid, hydrochloric and nitric acid, phosphoric acid, alkalis, waste water with chemical impurities, solvents, salt solutions and other products of FINISH THOMPSON INC. The pumps can also handle explosive liquids such as gasoline and diesel.

Main products offered: centrifugal horizontal and vertical pumps with magnetic drives, including self-priming ones. In addition, we supply centrifugal horizontal and vertical chemical pumps with mechanical seals made of plastic, pumps for barrels, canisters, bottles, intermediate bulk containers. The pumps are manufactured in ANSI standard sizes, with neodymium magnetic drives, corrosion resistant polypropylene and PVDF stainless steel casings. The range includes pumps manufactured in accordance with EC ATEX 100 directive (explosion-proof).

Buying centrifugal pumps with magnetic drives is the best choice when you need to eliminate the possibility of fluid leakage from the pump.
5

reasons to buy centrifugal pumps at Asco Pumps
«ASCO PUMPS» offers a wide range of centrifugal pumps that meet the needs of various industrial areas.
a) Monoblock pumps are used in water supply, heating, air conditioning systems; in chemical industry, sludge treatment, waste processing.
b) Single-stage horizontal and vertical pumps are widely used in chemical, petrochemical, chemical-pharmaceutical industries.
c) Pumps with a split casing are used in pumping stations, fire services and water treatment stations where a large flow is required and the head is limited.
Our specialists have received technical training at the factories where all the above types of centrifugal pumps are produced. Therefore, you can be sure of the correct selection of this or that pump.
We offer only high-quality equipment that will work provided it is used correctly.
Thanks to many years of experience in selling pumps, we offer you a range of only high-quality, time-tested, various models of centrifugal pumps.
We provide guarantee for all the products! Therefore, you can call us at any time if you have any questions throughout a long period time after the purchase!
In ASCO PUMPS you can not only order and buy uc series heavy duty chemical pumps in Uzbekistan, having received favorable prices + guarantees, but also take advantage of the full range of services, including: Delivery + Installation + Service + Equipment repair.