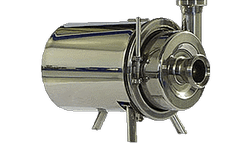 Hygienic Pumps LT
New LT series of electric sanitary pumps has been created using advanced cold-pressing technology to enable the pumps to operate in difficult conditions. LT series pumps are designed and manufactured to provide the highest hygiene and prevent any contamination of the pumped liquid.
The pumps are supplied as standard with fittings DIN 11851 or, on request, with Gas thread, Macon or Garolla.
LT Series Hygienic Industrial Pumps have the following characteristics
Stainless steel impeller

This series of pumps can be equipped with an axial impeller for handling filamentary and solid liquids and an open impeller for higher hydraulic performance.

Wide Working Range

LT series pumps can be supplied with 4 different pump housings for a wide range of applications. They are designed for flow rates from a few liters to 900 liters per minute at heads of up to 35 meters.
6

reasons to buy hygienic centrifugal pumps at ASCO PUMPS
High reliability. High quality and very low internal friction make these pumps very reliable even under difficult operating conditions.
Small size. The pumps are very small and lightweight, which affects their performance and hydraulic efficiency.
Reduced speed. Some models are supplied with a 1400 RPM motor for a smoother pump movement.
High housing thickness. Steel of a high thickness (3 mm), which provides a higher mechanical and corrosion resistance and therefore a longer service life.
Flammable liquids. Explosion-proof motors compliant with Atex standards are available for operation with flammable liquids.
Easy dismantling. Cleaning and replacing the mechanical seal and impeller is incredibly easy as the pump can be easily disassembled.
In ASCO PUMPS you can not only order and buy lt hygienic industrial pumps in Uzbekistan, having received favorable prices + guarantees, but also take advantage of the full range of services, including: Delivery + Installation + Service + Equipment repair.