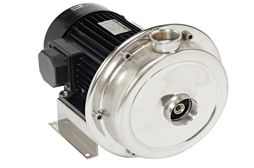 Hygienic Single-Block Pumps CM
CM series pumps have the following features:
40 different models meet different requirements
Closed or open stainless steel impeller for handling contaminated, solid liquids
Suitable for corrosive liquids
Steel of a high thickness (4 mm), which provides a higher mechanical and corrosion resistance and therefore a longer service life
Low number of welds to ensure higher reliability
Easy to disassemble for cleaning or replacing the mechanical seal
Motors comply with IEC 72 UNEL-MEC standards
Explosion-proof motors for pumping flammable liquids can be provided
Mechanical seal made of NBR, FPM or PTFE.
Their resistance to chemical attack makes them suitable for use in chemical, pharmaceutical and textile industries, their ability to pump dirty liquids makes them suitable for treatment of water and industrial waste, and their versatility is suitable for wine and food industries.
The pumps can be delivered on a stainless steel trolley with a switch on request.
CM Series Hygienic Pumps have the following characteristics
Maximum hygiene

Pump housing is polished on the inside and on the outside to ensure a high level of hygiene.Moreover, interior surfaces are smooth and free of sharp edges, which ensures high hydraulic performance.

Greater safety

Pumps with Atex motors are equipped with motors certified for more hazardous environments (Zone 2, Category 2G) for added safety, although the pump is classified as Zone 2, Category 3G.
The pumps can also be supplied with DIN 11851, Garolla or Macon fittings.
6

reasons to buy hygienic centrifugal pumps at ASCO PUMPS
High reliability. High quality and very low internal friction make these pumps very reliable even under difficult operating conditions.
Small size. The pumps are very small and lightweight, which affects their performance and hydraulic efficiency.
Reduced speed. Some models are supplied with a 1400 RPM motor for a smoother pump movement.
High housing thickness. Steel of a high thickness (3 mm), which provides a higher mechanical and corrosion resistance and therefore a longer service life.
Flammable liquids. Explosion-proof motors compliant with Atex standards are available for operation with flammable liquids.
Easy dismantling. Cleaning and replacing the mechanical seal and impeller is incredibly easy as the pump can be easily disassembled.
In ASCO PUMPS you can not only order and buy cm hygienic industrial pumps in Uzbekistan, having received favorable prices + guarantees, but also take advantage of the full range of services, including: Delivery + Installation + Service + Equipment repair.