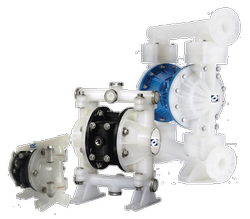 Plastic Pumps Valisi
Valisi

VC series

pumps are pneumatic double diaphragm pumps designed and manufactured with the needs of both OEMs and end users in mind. Main characteristics of these pumps include: competitive prices, simple design and maintenance, high quality. Metal and non-metal versions available. The pumps are suitable for a variety of industrial applications.

V-Series

plastic pumps feature a unique non-seizing air valve that is simple, reliable and does not require a separate pilot valve or mechanically operated pilot valve. The bolted design ensures leak-free pumping of liquids. The pumps are few in number and simple in design.

Valisi Non-Metallic FDA Compliant Pumps

are specially made from materials that are safe for food, beverage, pharmaceutical and cosmetic processes where 3A, USDA, or EHEDG standards are not required.
Despite their simple design and operating principle, Valisi plastic diaphragm pumps are distinguished by their exceptional performance and reliability. They can pump both clean, low-viscosity fluids and abrasive fluids of medium viscosity. In addition, these pumps can handle large particles without damaging equipment. Thanks to the pneumatic motor, they can be used in explosive environments.
5

reasons to buy industrial diaphragm pumps at Asco Pumps
All production processes are certified according to UNI EN ISO 9001/2008 standards.
We offer reliable solutions tailored to application, operational needs and capabilities of each customer.
All equipment is manufactured in our own factories.
Each pump we sell is thoroughly tested in our factory before being sent to the customer. Our specialists send the equipment to the customer only after being 100% convinced of its integrity and operability. Therefore, you can be sure that the pump will last you a long time.
Preliminary design work with subsequent installation is required for a certain part of our products. Our technical specialists will conduct preliminary consultations and carry out installation after delivery of the equipment to your enterprise. Therefore, we provide a service guarantee.
In ASCO PUMPS you can not only order and buy plastic pumps valisi in Uzbekistan, having received favorable prices + guarantees, but also take advantage of the full range of services, including: Delivery + Installation + Service + Equipment repair.