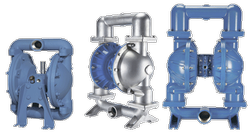 Valisi V Series Metal Pumps
Valisi V-series metal pumps are available in a variety of construction materials: aluminum, stainless steel. This series of industrial pumps provides high efficiency and reliability in continuous operation. With flow rates of up to 908 L/min and a wide variety of materials and channel configurations, you will get the right pump for your goals. FDA compliant metal pumps are specially made from materials that are safe for food, beverage, pharmaceutical and cosmetic processes where 3A, USDA, or EHEDG standards are not required. Simple, robust design features smooth air valve operation, oil-free operation, on/off reliability, easy operation and maintenance, and delicate/shear-sensitive product handling. The pumps comply with EU Directive 1935/2004.
Characteristics of Valisi metal pumps
Side inlet/outlet ports: NPT and BSP thread options for stainless steel, aluminum and cast iron models. Center flanges are also available for some sizes.
Housing construction materials: A choice of aluminum, cast iron, hastelloy or stainless steel is available for increased durability and corrosion resistance in the most challenging environments and processes.
Durable pleated diaphragms: service life of pleated diaphragms can be 4 times that of conventional diaphragms.
Materials used for the central part of the pneumatic system: Centerpieces made of glass-filled polypropylene, aluminum or all stainless steel are available for optimum corrosion protection and compatibility.
Options: Stainless steel air motor and pump body bolts for complete corrosion protection.
Advantages of V-Series Metal Diaphragm Pumps
Pneumatic diaphragm pumps are designed for general use. They can easily pump both clean fluids of low viscosity and abrasive fluids of medium viscosity, and can carry large particles without damaging equipment.
Thanks to the air motors, they can be used in a potentially explosive environment.
Most V series diaphragm pumps are ATEX certified (CE Ex11 2GD X).
They are also self-priming up to a height of 8 m (for water) and can run dry without risk of damage. If the liquid outlet is closed, the pump stops. It restarts when the nozzle is opened; this eliminates the need for a safety or relief valve.
Large pumps we offer allow for changing the volumetric flow rate from one liter per minute to 908 liters per minute at the outlet, as well as adjusting the fluid pressure from 0 to 8 bar only through the use of an air filter/regulator and a needle valve.
Pleated diaphragms are used in all pumps to ensure longer service life and reduce periodic maintenance.
Pneumatic industrial diaphragm pumps for standard operating conditions are one of the most demanded series on the market. They are manufactured with a wide range of standard sizes (1/4" – 3") and are used to solve problems of transportation of general-purpose liquids, such as clean water, process water, slightly aggressive liquids, liquids with a moderate content of small inclusions, oil products, etc. They are often used in ceramic, chemical and paint and varnish industries, as well as in the field of water disposal and housing and public utilities.
5

reasons to buy industrial diaphragm pumps at Asco Pumps
All production processes are certified according to UNI EN ISO 9001/2008 standards.
We offer reliable solutions tailored to application, operational needs and capabilities of each customer.
All equipment is manufactured in our own factories.
Each pump we sell is thoroughly tested in our factory before being sent to the customer. Our specialists send the equipment to the customer only after being 100% convinced of its integrity and operability. Therefore, you can be sure that the pump will last you a long time.
Preliminary design work with subsequent installation is required for a certain part of our products. Our technical specialists will conduct preliminary consultations and carry out installation after delivery of the equipment to your enterprise. Therefore, we provide a service guarantee.
In ASCO PUMPS you can not only order and buy valisi v series metal diaphragm pumps in Uzbekistan, having received favorable prices + guarantees, but also take advantage of the full range of services, including: Delivery + Installation + Service + Equipment repair.