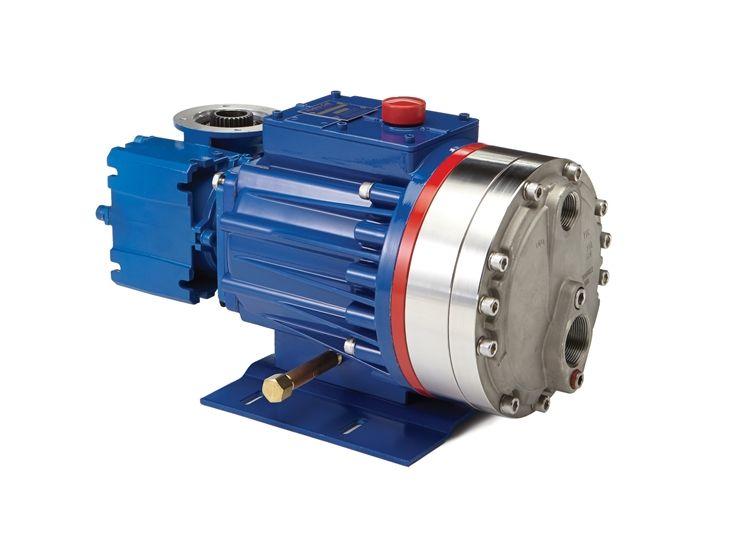 API 675 Metering & Dosing Pumps
Hydra-Cell MT8 and P series metering pumps are compact, economical pumps providing highly-productive metering. Replacing conventional metering pumps, MT8 and P series pumps provide superior performance at lower costs with virtually pulsation-free linear flow.

Metering pumps manufacturing process has barely changed. As a result, conventional metering pumps have operational limitations and greater financial cost implications. Hydra-Cell metering pumps are not conventional metering pumps. Hydra-Cell dosing pumps are manufactured in full compliance with the API 675 standard due to an almost even linear flow, and the principle of hydraulic balance of the diaphragm embodied by the design of KELL CELL plungers allows the pumps to work in various abnormal situations (blockage of the inlet or outlet, cavitation, dry running) without damage.

Taking advantage of the latest technology, the Hydra-Cell MT8 and P Series metering pumps achieve high levels of accuracy, repeatability and linearity while delivering accurate and consistent flow. This dispensing revolution uses the latest available electronic flow controls to replace obsolete, imprecise stroke controls.
Hydra-Cell MT8 and P series metering pumps have the following characteristics:
Hydra-Cell metering pumps combine simple engineering with a robust design to provide accurate metering with virtually pulse-free flow.
Having a sealed pump chamber and hydraulically balanced diaphragm design, the pumps provide leak-free performance with low operating costs.
The pumps are small in size and cost-efficient, designed for high performance dosing tasks.
Thanks to their simple design, Hydra-Cell® pumps successfully meter out crystallizing liquids, operate in dry running mode, and are resistant to emergency situations and human factors.
They are designed to work entirely under automatic control.
What are Hydra-Cell Metering Pumps
Design features and advantages of Hydra-Cell metering pumps
More accurate. No manual travel adjustment to cause inaccuracies, potential leakage and operator error
Optimal precision. Full speed - every hit.
Linear flow. Multiple membranes reduce pulsation and acceleration losses.
Variety of flows and pressures. Same piston, flow path and diaphragm size.
Small size. Considerably smaller footprint than that of metering pumps with comparable characteristics.
Great repeatability. Fill valve in the piston assembly ensures optimal oil response on every stroke for consistent accuracy.
Ease of maintenance. Simple, neat drain plug for oil changes.
Less chance of air ingress. Ports are larger than usual to address common gas metering problems.
7

reasons to but Hydra-Cell Metering Pumps at Asco Pumps
Efficiency - meets API 675 standards for linearity, repeatability and static accuracy.
Accurate - accuracy in volume per stroke almost independent of pressure.
Cost saving - virtually impulse-free flow eliminating the need for pulsation dampers.
100% leakproof - sealless design for leak-free operation.
Reduced maintenance costs - can operate without damage for a fairly long time.
Easy to control - flow is directly proportional to input speed.
Flexibility - handles abrasive particles, solids, high and low viscosity, shear sensitive, non-lubricating and corrosive liquids.
In ASCO PUMPS you can not only order and buy api 675 metering & dosing pumps in Uzbekistan, having received favorable prices + guarantees, but also take advantage of the full range of services, including: Delivery + Installation + Service + Equipment repair.