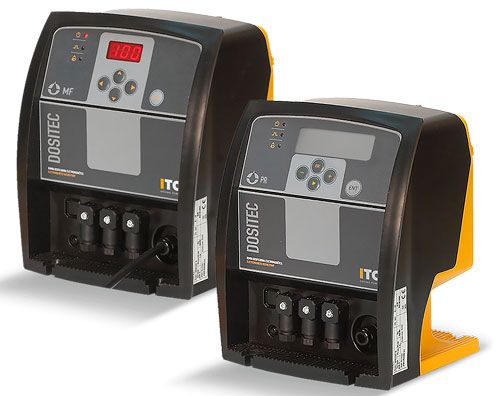 Electromagnetic Metering Pumps
Electromagnetic diaphragm metering pump with multiple control configurations:
manual;
analog (4-20mA);
digital (pulses);
control pH/RedOx;
multifunctional (manual, analog, digital and auto-dosing).
Head of the electromagnetic metering pump VD-EM is made of PVDF, insulation is made of fluorine rubber or EPDM. Metering pumps also have a PTFE diaphragm and double ceramic ball valves. A manual prime valve and a level control switch allow to stop the pump. This electromagnetic metering pump has a single-phase 12V DC motor.

Electromagnetic diaphragm metering pump control options:
MR - Manual adjustment with a potentiometer. Adjustable pulses from 0 to 100% or 0 to 20%.
MD - Manual adjustment, digital display and level switch. Adjustable pulses from 0 to 100%.
Q - Proportional control via digital signal. Control method: Proportional to external impulse (multiplication or division).
mA - Analog control via 4/20 mA signal. Level switch.
PRC - pH-ORP regulation via on/off relay. Measuring range pH 0-14, ORP -1400 mV + 1400 mV, 4-20 mA output signal.
MF - Multifunctional. Mechanical regulation, proportional (pulse/PPM), analogue (mA) and processor clock speed. With alarm and level switch.
3

reasons to buy Valisi metering pumps at Asco Pumps
The best solutions for obtaining high quality water in drinking water treatment systems, wastewater treatment plants, cooling towers.
Dosing of chemical products in industrial processes requires precision and control, which we provide our customers with through the equipment tailored to their needs.
Our pumps are 100% efficient at metering and controlling fertilizers and other additives in agriculture.
It is also worth noting that all our pumps can be used in the most difficult industrial conditions and in the most severe environmental conditions. First-class service and availability of spare parts ensure your business is running smoothly.
In ASCO PUMPS you can not only order and buy electromagnetic metering pumps in Uzbekistan, having received favorable prices + guarantees, but also take advantage of the full range of services, including: Delivery + Installation + Service + Equipment repair.