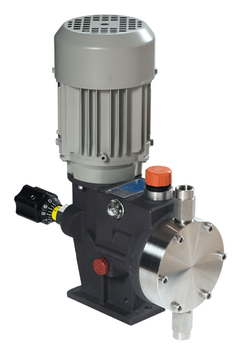 Hydraulic Diaphragm Metering Pumps
Combination of a high-quality hydraulically driven wet part and a reliable, cost-effective multi-component drive is the advantage of the XRN series hydraulic diaphragm metering pumps. Single aluminum housing design offers the advantages of a hydraulic drive with a compact and economical multi-component design.
Hydraulic drive with a mechanically controlled oil regulating valve ("smart diaphragm") makes it easy to overcome most of the suction and discharge problems. Compliance with ATEX directive 94/9/CE with possible installation in zones 1 and 2 thanks to an integrated safety valve. Accuracy, linearity and repeatability meet API675 requirements. The pump is designed for round-the-clock operation.
Additional benefits of XRN Series Hydraulic Diaphragm Metering Pumps:
Maintenance is kept to a minimum.
Unsealed plunger, operating in an oil bath, has a high volumetric efficiency even after 40,000 operating hours.
Diaphragm protected by a built-in safety valve and a mechanically regulating oil valve has a minimum service life of 40,000 hours.
The diaphragm is attached to the pump body, so it will keep the oil in the pump body when you dismantle the wet part. This makes maintenance much easier.
A safety valve built into the hydraulic actuator saves up to 50% on installation costs.
The low cost of the pump is achieved through the use of several mechanical components such as direct stroke length adjustment and eccentric mechanism.

ALL models comply with ATEX (2014/34/CE), group II, category 2 (zone 1/21) and group II, category 3 (zone 2/22).
Our technicians will help you choose the right pump model with a hydraulic diaphragm. To do this, you need to call us, describe all tasks that need to be solved with the help of a dosing pump, and we will find the best solution for you.
3

reasons to buy Valisi metering pumps at Asco Pumps
The best solutions for obtaining high quality water in drinking water treatment systems, wastewater treatment plants, cooling towers.
Dosing of chemical products in industrial processes requires precision and control, which we provide our customers with through the equipment tailored to their needs.
Our pumps are 100% efficient at metering and controlling fertilizers and other additives in agriculture.
It is also worth noting that all our pumps can be used in the most difficult industrial conditions and in the most severe environmental conditions. First-class service and availability of spare parts ensure your business is running smoothly.
In ASCO PUMPS you can not only order and buy hydraulic diaphragm metering pumps in Uzbekistan, having received favorable prices + guarantees, but also take advantage of the full range of services, including: Delivery + Installation + Service + Equipment repair.