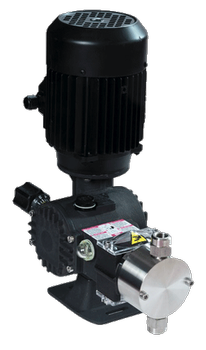 Plunger Metering Pumps
R and RH series piston metering pumps have a plunger outlet and a spring-return mechanism. They are the simplest machines in the pump range and are part of the volumetric injection pump family. The crankshaft is driven by a constant speed electric motor (1500 rpm), and the number of strokes per minute is determined by an inner reduction gearbox with a worm gear immersed in oil. Models available for high pressure and high viscosity fluids.

R-HV Option (dosing of highly viscous products).
Typical application: viscous liquids and concentrated polymer (emulsion).
Connections are usually threaded with one valve, but can include two valves on request.
Pump plunger head with clamping nut and adjustable seal.
Adjustable «V»-Profile PTFE Plunger O-Rings (Chevron Style) to prevent leakage of pumped fluid.
Suitable for dispensing products with viscosities of up to 55,000 cP.
Suitable for operating pressures of up to 10 bar.
R-TS models are designed for extremely high head pressure applications. Typical application: high pressure injection of chemicals.
Long seal
Overlapping valve seats
Plunger surface finish
Self-centering plunger
Valves are pressed into the housings
KEVLAR fiber reinforced PTFE plunger seals
These design features, as well as the reinforced flow path, ensure accurate metering at pressures up to 100 bar.
R Series - Plunger Pump - Full Service
3

reasons to buy Valisi metering pumps at Asco Pumps
The best solutions for obtaining high quality water in drinking water treatment systems, wastewater treatment plants, cooling towers.
Dosing of chemical products in industrial processes requires precision and control, which we provide our customers with through the equipment tailored to their needs.
Our pumps are 100% efficient at metering and controlling fertilizers and other additives in agriculture.
It is also worth noting that all our pumps can be used in the most difficult industrial conditions and in the most severe environmental conditions. First-class service and availability of spare parts ensure your business is running smoothly.
In ASCO PUMPS you can not only order and buy plunger metering pumps in Uzbekistan, having received favorable prices + guarantees, but also take advantage of the full range of services, including: Delivery + Installation + Service + Equipment repair.