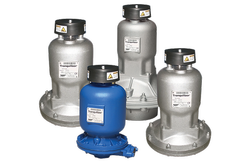 SandPiper Tranquilizer
Tranquilizers® Pulsation Dampers
Pulsation dampers designed to work with any reciprocating pump effectively suppress pulsations while maintaining a constant air cushion volume. All models provide automatic self-filling and self-release.
Tranquilizer® Sandpiper Pulsation Damper is a fully automatic diaphragm pressure regulator reducing pulsation flow and pressure in the pumping system, which is typical of reciprocating pumps.
Features
Almost no pulsations
More even pressures
Less vibration and noise
Easy to install
Various sizes and materials
Automatic self-fill and self-release
Long-lasting balanced membrane
Protects other system components
Operating Principle
Tranquilizer® Pulsation Damper uses a flexible membrane to separate the liquid chamber from the compressed air chambers. A stem connected to the center of one diaphragm activates the inlet and outlet valves that automatically let air in or out of the air chambers. This keeps the diaphragms in their mid travel range for maximum overvoltage suppression.
Installation
Tranquilizer® is placed in the discharge line as close as possible to the pump. The device will work in any position. Connect an inlet connection to the complete air supply line before the air regulator starts the pump. Pressure value must not exceed 8.6 bar.
Tranquilizer® Pulsation Damper Design;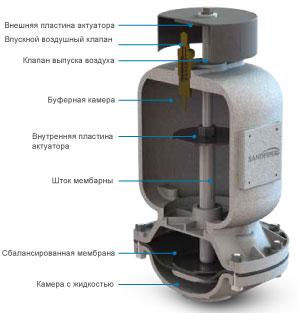 5

reasons to buy industrial pumps at Asco Pumps
All production processes are certified according to UNI EN ISO 9001/2008 standards.
We offer reliable solutions tailored to application, operational needs and capabilities of each customer.
All equipment is manufactured in our own factories.
Each pump we sell is thoroughly tested in our factory before being sent to the customer. Our specialists send the equipment to the customer only after being 100% convinced of its integrity and operability. Therefore, you can be sure that the pump will last you a long time.
Preliminary design work with subsequent installation is required for a certain part of our products. Our technical specialists will conduct preliminary consultations and carry out installation after delivery of the equipment to your enterprise. Therefore, we provide a service guarantee.
In ASCO PUMPS you can not only order and buy sandpiper tranquilizers pulsation dampers in Uzbekistan, having received favorable prices + guarantees, but also take advantage of the full range of services, including: Delivery + Installation + Service + Equipment repair.