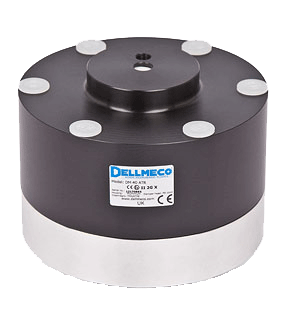 Dellmeco Pulsation Dampeners
Dellmeco Active Pulsation Damper is an effective device for suppressing fluid pressure surges at the pump outlet. Pulsation dampers work by actively using compressed air and a diaphragm, automatically adjusting the pressure opposite to the fluid pressure. Pulsation dampers can be installed on diaphragm pumps of all sizes and versions.
Dellmeco Pulsation Damper is the latest generation of active pulsation dampeners. They are specially designed for use with DELLMECO pneumatic double diaphragm pumps. It should be noted that the use of pulsation dampers reduces system performance depending on operating conditions.
Dellmeco pulsation dampers are available in several options:
plastic pulsation dampers
metal pulsation dampers
hygienic pulsation dampers made of polished AISI 316l stainless steel
Installation
DELLMECO pulsation damper can be easily installed in the pump at any time by replacing the discharge pipe. Using a pulsation damper will reduce pump performance. The degree of performance degradation depends on conditions and parameters of the equipment use. Pulsation damper must be supplied with compressed air from the pump air line with the same pressure. It is not necessary to install any shut-off and control valves between the pump and the pulsation damper. The supply air must be free of oil, dry and clean. The unfilled pulsation damper must be actuated slowly along with the pump. The pulsation damper is self-adjusting for all operating conditions.
5

reasons to buy industrial pumps at Asco Pumps
All production processes are certified according to UNI EN ISO 9001/2008 standards.
We offer reliable solutions tailored to application, operational needs and capabilities of each customer.
All equipment is manufactured in our own factories.
Each pump we sell is thoroughly tested in our factory before being sent to the customer. Our specialists send the equipment to the customer only after being 100% convinced of its integrity and operability. Therefore, you can be sure that the pump will last you a long time.
Preliminary design work with subsequent installation is required for a certain part of our products. Our technical specialists will conduct preliminary consultations and carry out installation after delivery of the equipment to your enterprise. Therefore, we provide a service guarantee.
In ASCO PUMPS you can not only order and buy dellmeco pulsation dampeners in Uzbekistan, having received favorable prices + guarantees, but also take advantage of the full range of services, including: Delivery + Installation + Service + Equipment repair.