Simplex PD Plunger Pumps
Simplex PD Plunger Pumps include 5 sizes of pumps with the following characteristics:
Crankmechanism with mechanical plunger return stroke
0 - 100% continuous stroke adjustment while pump is stationary or running
Metering accuracy better than 1% within the normal operating range of 10 - 100% capacity
Required NPSH lower than 0,3 bar abs at normal operating conditions
Performances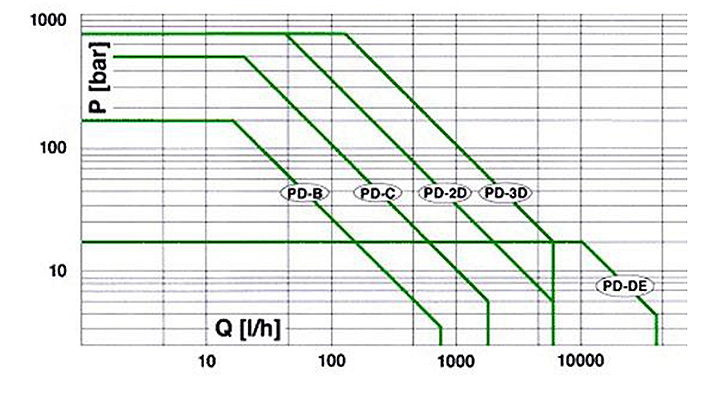 Liquid End
Suction and delivery valves of single or double ball type
AISI 316 as standard construction material of all the parts in contact with the fluid. Other materials depending on the fluid nature upon request
Flanged suction and discharge connection as standard execution
Stuffing box with lantern ring for flushing
Standard packing with V or square section rings, made of PTFE, neoprene or impregnated fibres
PD-D type includes models with double acting pumping heads for very large capacities
To meet the requirements of the oil and gas and hydrocarbon processing industries, Peroni manufactures a complete range of triplex, quintuplex and septuplex reciprocating power pumps, designed according to API 674 standards.

All Peroni pumps are manufactured under a rigorous, proven quality assurance system certified to UNI ENI ISO 9001 quality standards and Peroni are also certified according to ISO 14001:2004, BS OHSAS 18001:2007 and GOST R.
In ASCO PUMPS you can not only order and buy simplex pd plunger pumps in Uzbekistan, having received favorable prices + guarantees, but also take advantage of the full range of services, including: Delivery + Installation + Service + Equipment repair.