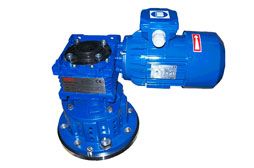 AVF - Worm-Drive
Worm-geared AVF.They are mainly used in closed containers with a volume of about 15 m3. They can be used with different types of seals. Power up to 4 kW.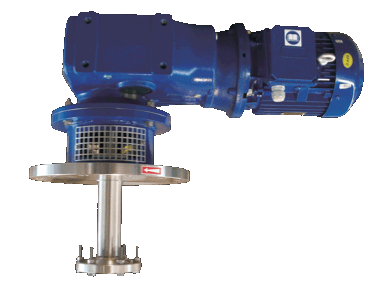 AVC - with a Bevel Gear Speed Reducer
Used on large vessels when a horizontal motor position is required.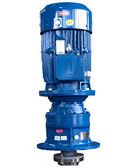 AVS - with a Coaxial, Reduction or Planetary Reducer
Mainly used in open vessels. Vertical motor design with external output shaft. Larger sizes are available with an additional bearing for longer shafts.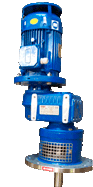 AVL - Parallel Axis Gear
High quality solution for open or closed containers of various sizes. Mixer shaft is installed directly in the hollow shaft of the gearbox. Vertical position of the engine.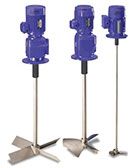 AV - High-Speed Mixer
Engine rotation speed 700/900/1400 rpm. Available with/without INOX flange and seal. Mechanical seal can be used for pressure vessels. Used on small containers.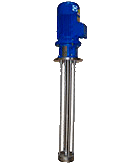 TD - High-Speed Turbine Mixer
TD - High Speed Turbine Agitator with stator/rotor system to improve dispersion efficiency at 1400 rpm.
Vertical mixers have a wide range of applications. This includes oil and gas, chemical, pharmaceutical, food industries, wastewater treatment, paint, detergent, ceramics and much more. Size of the mixer is determined based on the torque (power depends on the number of revolutions). Vertical mixers are flexible solutions that allow you to install any kind of impeller and operate at high or low speed. It be supplied with or without sealing system. Seal options are common across the range. These mixers are not suitable for use in tanks larger than 10 m in diameter. Top connection mixers (vertical mixers) include low speed gearbox mixers, high speed gearbox mixers, high speed turbine mixer.
Having a sufficiently large capacity and corresponding design features, mixing devices help to achieve maximum solubility in a viscous liquid even of solid particles of a suspension. This is not a standard product, so ASCO Mixers can custom-design mixers using different types and diameters of impellers with different speeds, resulting in different levels of power consumption.
6

reasons to buy industrial mixers or stirrers at Asco Pumps
A wide range of different types and designs of mixers.
Mixing different products.
Production of custom mixers according to customer requirements.
Knowledge of the manufacturing process is based on in-depth knowledge of the product's application.
We select the correct type of impeller, select the number of impellers, their diameter and speed based on the size of the tank.
We do not manufacture mixers according to the customer's design since we are fully responsible for selection and production.
In ASCO PUMPS you can not only order and buy vertical mixers in Uzbekistan, having received favorable prices + guarantees, but also take advantage of the full range of services, including: Delivery + Installation + Service + Equipment repair.