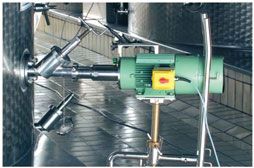 GUTH RA - Portable Side-Port Mixer
This type of mixer is used for mixing, stirring and homogenizing liquid or medium viscous products. They are most commonly used in wine cellars for production of wine and champagne, and are also used in other areas of the food and beverage industry that require gentle and efficient mixing.
GUTH RA is a rising shaft and rotating screw for full tank handling. They are used for tanks with a capacity of up to 1000 liters.
MAIN APPLICATIONS OF GUTH RA
Stirring liquid to prevent sedimentation of suspended solids and stirring wine yeast to reduce biological acid.
Preparation of homogeneous liquid mixtures also using different specific densities.
Clarification and homogenization of the liquid during the dilution procedure.
Mixing liquids with solid or gaseous products, for example,

to distribute cleaning agents, sulfuric acid or carbon dioxide.

Emulsification of sterile products and homogenized distillates.
Accelerating reactions and dissolving processes, such as, for example,

influencing fermentation by dissolving sugar and sugar solutions.

Improving the effect of heat and cold, for example,

uniform liquid dispersion for cooling procedures.

Low fermentation yeast activation.
Having a sufficiently large capacity and corresponding design features, mixing devices help to achieve maximum solubility in a viscous liquid even of solid particles of a suspension. This is not a standard product, so ASCO Mixers can custom-design mixers using different types and diameters of impellers with different speeds, resulting in different levels of power consumption.
6

reasons to buy industrial mixers or stirrers at Asco Pumps
A wide range of different types and designs of mixers.
Mixing different products.
Production of custom mixers according to customer requirements.
Knowledge of the manufacturing process is based on in-depth knowledge of the product's application.
We select the correct type of impeller, select the number of impellers, their diameter and speed based on the size of the tank.
We do not manufacture mixers according to the customer's design since we are fully responsible for selection and production.
In ASCO PUMPS you can not only order and buy guth ra - portable side-port mixer in Uzbekistan, having received favorable prices + guarantees, but also take advantage of the full range of services, including: Delivery + Installation + Service + Equipment repair.