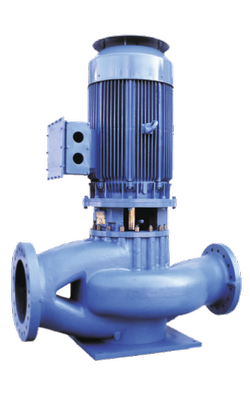 IN LINE Double-Suction Pumps
Single-stage in-line double suction centrifugal pumps of NCLD series are designed in accordance with API 610.
The pumps are characterised by:
High performance and low NPSH.
Reduction of the radial load on motor bearings.
Reduction of the axial load on motor bearings based on the symmetry of the double suction impeller, which guarantees perfect hydraulic balancing.
Longer mechanical seal life due to vertical design.
The company's plant produces single-stage horizontal and vertical centrifugal industrial pumps, which are widely used in chemical, petrochemical, chemical and pharmaceutical industries, in water treatment plants, in textile industry and in any other industry where there is a need to move liquids, including, and special. The listed pumps are used not only in standard installations, but are also custom-made, since they are distinguished by a high level of individualization both in terms of materials used and in terms of configuration of the installation itself.

The company's product range includes chemical single-stage horizontal centrifugal pumps, horizontal monoblock centrifugal pumps, vertical single-stage centrifugal pumps, single-stage in-line centrifugal pumps, and double-suction in-line pumps.
6

reasons to buy industrial centrifugal pumps at Asco Pumps
Main market for pumps includes petrochemical and chemical industry
The pumps are capable of handling a wide variety of aggressive media and products.
Raw materials of the highest quality are used in production of these pumps.
Our pumps are characterized by reliability, safety and high performance. Such units demonstrate high-precision flow rate, long service life, minimal service time, high efficiency with minimal operating costs.
You can count on an individual approach to each request and professional advice.
«ASCO PUMPS» technicians will promptly select the centrifugal pump option that suits you and will give you the best commercial offer!
In ASCO PUMPS you can not only order and buy in line double-suction centrifugal pumps in Uzbekistan, having received favorable prices + guarantees, but also take advantage of the full range of services, including: Delivery + Installation + Service + Equipment repair.