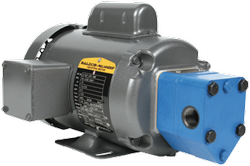 VIKING PUMP Hydraulic Gear Pumps
ASCO PUMPS offers to buy hydraulic gear pumps of SG (Spur Gear) series designed to provide high performance in solving various production tasks. This type of pump is the optimal solution for pumping at high pressure.
Seal leakage is the most common cause of pump downtime, so minimizing shaft movement in SG pumps has significantly extended life of the mechanical seal. Radial (side-to-side) movements or misalignment of bracket-mounted pumps have been eliminated by bringing the motor mounts or external bearings as close as possible to the pump. Axial movement (forward and backward) has been minimized by using spur gears instead of their helical counterparts, which transfer axial loads to their interfacing parts.
Standardized in SG pumps, anti-friction needle bearings eliminate the wear experienced by radial bearings when starting and stopping the pump– in the absence of a slick.
SG series pumps have a wide range of options for choosing the required seals, bearings and other structural elements, allowing you to solve the assigned industrial tasks more effectively.
6

reasons to buy external gear pumps at Asco Pumps
We offer a wide range of pump models, sizes and designs, as well as customized, usable options to meet the most demanding requirements.
Solution of specific tasks of a customer.
Full product testing (performance, hydrostatic testing, pneumatic pressure testing, NPSHr, sound and vibration)
Further tests upon request (magnetic particle, dye weld inspection, compatibility and confirmation of material composition)
Analysis of liquid samples (rheological tests and elastomeric compatibility)
Quality control of all finished products
In ASCO PUMPS you can not only order and buy viking pump hydraulic gear pumps in Uzbekistan, having received favorable prices + guarantees, but also take advantage of the full range of services, including: Delivery + Installation + Service + Equipment repair.