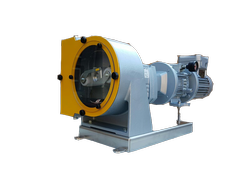 TF-RM Series Low-Pressure Pumps
Low pressure pumps are suitable for pumping and metering liquids with low or high viscosity, pasty, clean (free of impurities), neutral, aggressive and abrasive, liquids containing gases or those that can foam, as well as liquids that contain solid particles.

Advantages of these pumps include accurate and uniform dosing, self-priming, the ability to work in the dry running mode, minimal maintenance costs, quick and easy maintenance, long service life and reliability. All pumps can be supplied in monoblock versions connected to gearboxes , regulators, electric, diesel, pneumatic or hydraulic motors.
General characteristics of low pressure pumps of T• F • RM series
Positive displacement pump: excellent metering pump.
Self-priming: no level difference required.
Lack of valves, oil seals: can handle raw liquid even with small suspended particles.
Does not emulsify and does not create turbulence: recommended for pumping some non-emulsifiable liquids.
«Dry» running: the pump can run dry without damaging mechanical parts.
Vacuum: it can be used as a vacuum pump.
Reversible: easy to clean thanks to a reversible direction of rotation.
Low operating costs: minimal maintenance time; very easy hose replacement.

Valisi peristaltic pumps combine the best materials and simple design to increase the life and reduce the time required for maintenance.
12 reasons to buy peristaltic pumps at ASCO PUMPS
Available in 15 different sizes providing flow rates from 0 to 144,000 L/h.
Handling delicate liquids with low wear.
Since only the inside of the hoses and sleeves comes into contact with aggressive and contaminated fluids, fluids can be pumped without damage caused by other pumping technologies.
Hoses are made of natural rubber NR, NBR, food grade NBR, EPDM, Hypalon, FKM, Viton.
Ability to accurately control the volumes of supplied liquids – the device is capable of dispensing fluid substances.
Possibility of passing solids into the pumped material, 20% of hose identification.
Absence of liquid in a working system is not dangerous – dry running is not critical.
Sealless design eliminates leakage, contamination and wear problems associated with tightness.
Water suction lift up to a height of 9.8 meters.
Possibility of reversible device operation.
Durable ductile iron and steel construction enables high pressure devices at the outlet – of up to 15 bar.
Low maintenance requirements for hose and shoes.
In ASCO PUMPS you can not only order and buy tf-rm series low-pressure pumps in Uzbekistan, having received favorable prices + guarantees, but also take advantage of the full range of services, including: Delivery + Installation + Service + Equipment repair.