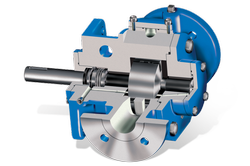 Vane Pumps
Viking LVP series vane pump (patented technology) exemplifies durability achieved with a standard case hardened stainless steel body to 62 HRC for maximum body and blade life. Solid chromium oxide-coated shaft rotates in a solid silicon carbide bearing, allowing for pressures — of up to 14 bar that are among the highest in the industry.
Installing a vane pump is easy. LVP series ports conform to DIN or ANSI standards for easy connection to local standard systems. Vane pump is equipped with standard adjustable top-mounted relief valves. Viking LVP series pumps have standard sensor ports for local or remote monitoring systems. Swivel housing with motor support available in the two smallest sizes allows for vertical or horizontal port mounting. Thanks to running at motor speed of 23 m3/h at 50 Hz, installation eliminates the gearbox and one shaft alignment, coupling and guard, reducing system cost.
Key Benefits of Viking Vane Pumps:
Increased durability
Easy installation
Flexibility of use
Maintenance costs are minimized
Application
Aggressive, highly-mobile fluids
Flammable
liquids
Increased pressure

Acids and alkalis
Alcohols and solvents
Aqueous solutions

Monomers
Hexane

, pentane

Refined fuels

Dosing of ingredients supplied to reactors
Maintenance of vacuum vessels
Applications requiring high suction lift
Systems with long suction or long delivery lines
5

reasons to buy industrial pumps at Asco Pumps
All production processes are certified according to UNI EN ISO 9001/2008 standards.
We offer reliable solutions tailored to application, operational needs and capabilities of each customer.
All equipment is manufactured in our own factories.
Each pump we sell is thoroughly tested in our factory before being sent to the customer. Our specialists send the equipment to the customer only after being 100% convinced of its integrity and operability. Therefore, you can be sure that the pump will last you a long time.
Preliminary design work with subsequent installation is required for a certain part of our products. Our technical specialists will conduct preliminary consultations and carry out installation after delivery of the equipment to your enterprise. Therefore, we provide a service guarantee.
In ASCO PUMPS you can not only order and buy vane pumps in Uzbekistan, having received favorable prices + guarantees, but also take advantage of the full range of services, including: Delivery + Installation + Service + Equipment repair.