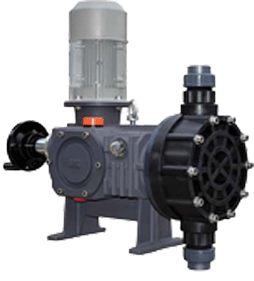 Metering Pumps with Mechanical Diaphragm
Pumps of M and ME series are dosing pumps with a mechanical diaphragm with a spring-return mechanism, an eccentric shaft and a thrust ring. These series combine performance of a plunger pump with hermetic advantages of a diaphragm pump. High-quality and simple diaphragm design makes these pumps easy to service.
General characteristics of M Series Pumps:
Black anodized aluminum housing. Improved corrosion resistance against corrosive gases. Extends pump life and reduces operating costs.
Simple and reliable mechanical diaphragm pump with spring-return mechanism.
Low cost due to fewer components.
It uses a mechanically actuated diaphragm to combine the characteristics of a plunger pump (linear flow) with the advantages of a sealed diaphragm pump.
Minimum maintenance required.
Single- or multi-head design. Pump head (-s) is (are) firmly secured with locking bolts. Sealing during operations is ensured.
ALL M pump models comply with ATEX (2014/34/CE) Group II, Category 3 (Zone 2/22).
M Series - Mechanical Diaphragm Pumps - Full Service
3

reasons to buy Valisi metering pumps at Asco Pumps
The best solutions for obtaining high quality water in drinking water treatment systems, wastewater treatment plants, cooling towers.
Dosing of chemical products in industrial processes requires precision and control, which we provide our customers with through the equipment tailored to their needs.
Our pumps are 100% efficient at metering and controlling fertilizers and other additives in agriculture.
It is also worth noting that all our pumps can be used in the most difficult industrial conditions and in the most severe environmental conditions. First-class service and availability of spare parts ensure your business is running smoothly.
In ASCO PUMPS you can not only order and buy metering pumps with mechanical diaphragm in Uzbekistan, having received favorable prices + guarantees, but also take advantage of the full range of services, including: Delivery + Installation + Service + Equipment repair.